What do Anjelica Huston, Joaquin Phoenix, William H. Macy, George Lopez, RZA, James Cromwell, Tony Hawk, Jason Biggs, and Pamela Anderson all have in common?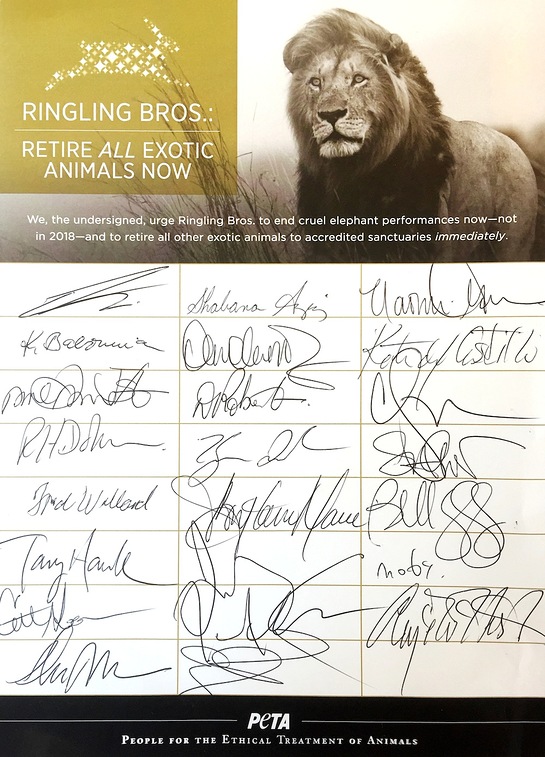 They and a slew of other celebrities have signed PETA's petition calling on Ringling Bros. to retire all exotic animals now — not only the elephants who are beaten into performing, whom Ringling plans to keep on the road for three more years, but also the tigers, lions, and other animals who spend their lives in cages and are deprived of everything that's natural and important to them.
Other celebrities who have signed PETA's petition include the following:
Seth Green, Noah Cyrus, Maggie Q, Kym Johnson, Ireland Baldwin, Alicia Silverstone, Jillian Michaels, Kate del Castillo, Diane Warren, Bellamy Young, Emily Deschanel, Tony Kanal, Kevin Nealon, Carrie Ann Inaba, Fred Willard, Rob Zombie, Constance Marie, Paula Poundstone, Christen Press, Moby, Otep Shamaya, Shaun Monson, John Salley, Davey Havok, Denise Roberts, Naomi Grossman, Ariane Sommer, Sunny Leone, Joanna Krupa, Marco Antonio Regil, and Daniella Monet.
To find out more about the petition, click here.