An impressive 1.4 million dollars was raised at the tenth annual Artists for Peace and Justice (APJ) Festival Gala, presented by BOVET, held at the Windsor Arms Hotel during the Toronto film festival.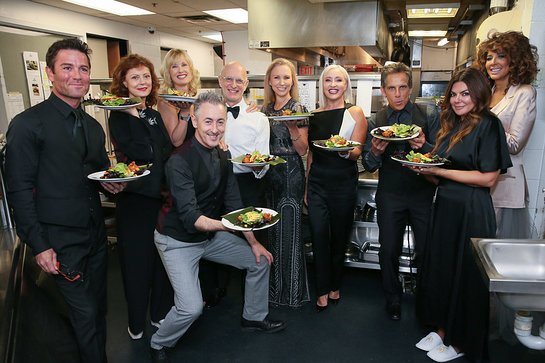 Co-chaired by Natasha Koifman and Suzanne Boyd, the event was co-hosted by an influential team, including APJ board co-chairs Ben Stiller and Susan Sarandon, along with Jackson Browne, George Stroumboulopoulos, Yannick and Shantelle Bisson.
The event kicked off with a live-art "red" carpet led by acclaimed New York-based pop artist Peter Tunney. Inspired by the arrivals moment that the artist created at the inaugural event in the same location in 2009, Peter encouraged high-profile guests to dip their feet in blue paint to transform a canvas with a stencil that read "Grattitude." The sentiment behind this piece celebrates the deep appreciation for those who have helped APJ flourish and the unwavering positive attitude they brought to support communities in Haiti over the past ten years. Those who dipped their feet include London Brown, Alan Cumming, Paul Beaubrun, Drew and Jonathan Scott, and Fefe Dobson.
To highlight the power of service, new APJ CEO Marchelle Sellers surprised and delighted guests by leading the co-hosts and notable attendees, including Ben Stiller, Susan Sarandon, Alan Cumming and more to provide the first dinner course.
Awards throughout the night included the Canadian Changemaker Award presented by Birks, given by Alan Cumming to Kate and David Daniels, who have demonstrated that social responsibility goes beyond the corporate boardroom and must extend into our personal lives. David Daniels accepted the award by highlighting that change was one part of the equation, "If the people in this room are changemakers, then the people on the ground are heroes."
Previously given to individuals such as Sean Penn and Helen Mirren, the Peace and Justice Award, was presented by Ben Stiller and Susan Sarandon to Drew and Jonathan Scott. Said Stiller, "Drew and Jonathan are examples of how people can use their personal success to inspire others to improve the world around them."
Finally, the Lifetime Achievment Award was given to prolific and iconic actor and activist Harry Belafonte, who over his lifetime has been committed to fighting injustice.
A live auction throughout the evening, led by auctioneer Lucas Hunt, helped to sell one-of-a-kind experiences in support of the cause, including:
A Private Magic Show by David Blaine
A Peter Tunney "Grattitude" pop art painting
A private one-on-one conversation with music legend Jackson Browne
A walk on role on the longest-running series in Canada, Murdoch Mysteries, and a private party in George Stroumbouloupolos' home
A rare, special-edition boxed set of "Give" Portraits of Jean Michel Basquiat by Photographer Steven Torton
A Dubai Experience complete with two VIP tickets to the GQ Magazine-sponsored APJ Gala
Following the auction, notable guests joined Lucas Hunt on stage to drive a fund-the-need campaign to support the Academy in Haiti. Shantelle and Yannick Bisson educated guests on the need for student counselling services after graduation. Jeanne Beker encouraged guests to fund uniforms for all students, and Rajen Ruparell highlighted the importance of funding internet for all students. The campaign inspired CEO and founder of Jump Ventures, Hari Ravichandran, to pledge $330K to sponsor a science lab at the Academy. The donation comes through the Ravichandran Family Foundation, which is committed to improving health, promoting education and empowering youth locally and globally.
Guests in attendance were treated to musical performances by Canadian singer-songwriter Fefe Dobson and Slaight Music artist Theo Tams. The evening was capped off by a performance from Haitian musician and long-time friend of APJ Paul Beaubrun, who was joined before the night closed by co-host Jackson Browne.
"There is important work to do, there is beautiful work to do, and this is why it is imperative that we are here tonight," said George Stroumboulopoulos.
APJ's mission is to encourage peace and social justice, working to alleviate poverty around the world. The organization's immediate efforts serve the poorest communities in Haiti with programs in education and training in creative industries, while expanding the reach globally by partnering with effective local organizations to give young women access to quality education. Thanks to strategic partner BOVET, APJ is able to give 100 per cent of every dollar towards meeting this mission, having raised over $31 million for the organization since its inaugural launch event in 2009 during the Toronto International Film Festival.
"Ten years ago, I stood here in the same place at the Windsor Arms Hotel, after creating a live art red carpet led by Peter Tunney, and observed as many of us who are in the room today banded together to raise $50K to help children in Haiti," said Natasha Koifman, Canada Board Chair, US Board of Directors and Festival Gala Co-Host. "What an honour and privilege it is to be standing here today, a decade later, after raising more than $30M to build a high school that allows 3500 students annually a chance at an education they wouldn't otherwise have had. We all did this together and we should all be very, very proud of difference we make each and every day in the lives of the Haitian people." Koifman then went on to thank and pay tribute to attendees and supporters who were there at the inaugural event in 2009.
Generous sponsors for this year's event to-date include BOVET, Birks, Stella Artois, AUDI, the Windsor Arms Hotel, Air Canada and NKPR. For more information on the organization or to make a donation, please click here or follow @artistsforpeace on social under the hashtags #APJ10 and #APJFest18.