On Thursday, February 28, 2019, the Women's Cancer Research Fund (WCRF) Honorary Chairs Rita Wilson, Kate Capshaw and Steven Spielberg, along with WCRF co-founders Anne Douglas, Quinn Ezralow, Marion Laurie, Kelly Chapman Meyer, and Jamie Tisch welcomed guests to An Unforgettable Evening.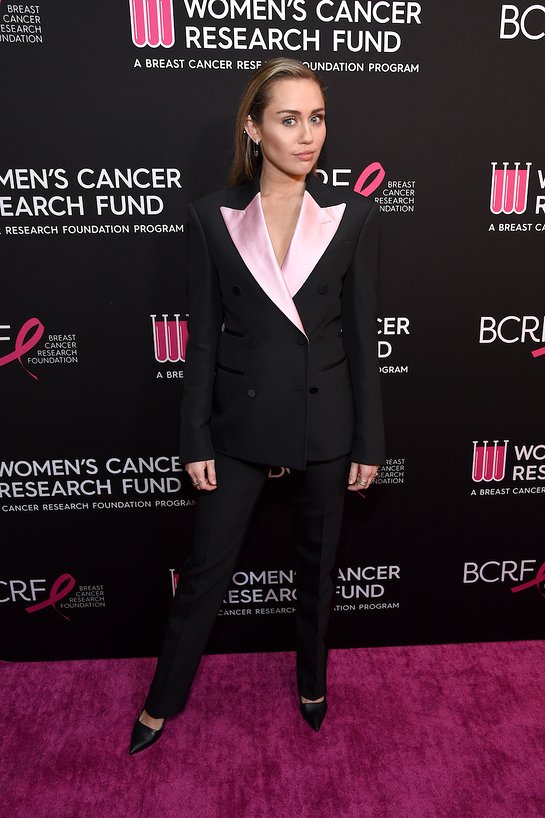 The event returned to the Beverly Wilshire Hotel, with proceeds benefitting the Women's Cancer Research Fund, a program of the Breast Cancer Research Foundation (BCRF).
This year, actress, author, and entrepreneur Kate Hudson received the 2019 Courage Award for her support of breast cancer research, and commitment to raising awareness and funds for research. Actress, producer, author, and activist Gabrielle Union received the Unsung Hero Award for her charitable contributions and philanthropic efforts throughout her career, including her work to help educate women about breast cancer screenings, prevention and closing the gap on breast cancer disparities. Rita Wilson presented both women with their awards. Music superstar Miley Cyrus brought the crowd to their feet with her performance, singing her hits "Nothing Breaks Like A Heart" and "The Climb," as well as covers of "My Generation" and "River." The event raised over $1.5 Million for the cause.
Additional guests in attendance included Breast Cancer Research Foundation (BCRF) President & CEO Myra Biblowit, BCRF Researcher Dr. Peter Kuhn, Gala Co-Chairs NJ Falk, Tom Ford & Richard Buckley, Judy Glickman Lauder, and Kris Levine, Gala Committee Members Eric Buterbaugh, Stacy & Peter Cramer, Janet Crown & Steve Robinson, Laurie Feltheimer, Jennifer Smith Hale, Halle Hammond, Sydney Holland, Julie Jaffe, Danielle Lauder, Monique Lhuillier, Crystal Lourd, Tamara Mellon, OBE & Michael Ovitz, Heather Mnuchin, Candace Nelson, Alexandra Nourafchan, Danielle & Reinout Oerlemans, Erica Packer, Danica Perez, Kelly Styne, Alexandra Von Furstenberg Miller & Dax Miller, Lena Wald, Elizabeth Wiatt, Margo & Irwin Winkler, Special Guests Valorie Kondos Field, Erin Foster, Sara Foster, Danny Fujikawa, Goldie Hawn & Kurt Russell, Paris Hilton, Ken Jeong, Loni Love, Lori Loughlin, Jennifer Meyer, Jamie Mizrahi, Demi Moore, Katelyn Ohashi, Sean Penn, Alex Pettyfer, Sharon Stone, Justin Sylvester, and many more.
An Unforgettable Evening is the flagship fundraising event for WCRF featuring extraordinary honorees, tributes to cancer survivors and the memory of those impacted by cancer. For over 20 years, this event has brought together leaders in entertainment, cancer research and corporate philanthropy in raising funds for pioneering cancer research conducted at leading medical and academic institutions in Los Angeles and throughout the nation. Previous An Unforgettable Evening Honorees have included Natalie Cole, Courteney Cox, Sheryl Crow, Melissa Ethridge, Renette Ezralow, Tom Ford, Carolina Herrera, Faith Hill & Tim McGraw, Jennifer Hudson, Sir Elton John, Nicole Kidman, Judy & Leonard Lauder, Stella McCartney, Gwyneth Paltrow and Sofia Vergara.