On October 1, 2011, join Sting at the Beacon Theater in New York City as he celebrates the 25th anniversary of his solo career on the eve of his 60th birthday with a very special concert event to benefit the Robin Hood Foundation.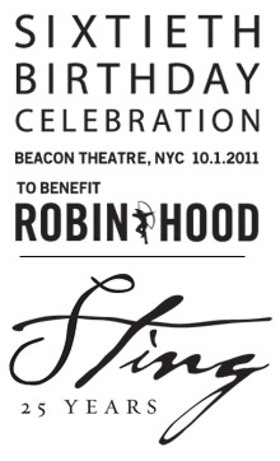 Representing a cross section of Sting's vast portfolio of work and collaborations throughout his enduring career, special guest performers include Bruce Springsteen, Lady Gaga, Stevie Wonder, Mary J. Blige, Herbie Hancock, Robert Downey Jr, Vince Gill, will.i.am, Rufus Wainwright, Branford Marsalis, Billy Joel, and Chris Botti.
Throughout the evening, Sting will be backed by a band featuring his longtime guitarist, Dominic Miller, bassist Christian McBride, keyboardist David Sancious, drummer Vinnie Colaiuta, and backing vocalists Jo Lawry, Lisa Fischer, and Tabitha Fair.
In keeping with long-standing tradition of being on stage during his birthday, this will be a truly unforgettable night.
While this show will not go on sale to the general public, a limited number of tickets have been reserved exclusively for Sting.com fan club members.
The Robin Hood Foundation targets poverty in New York.
To find out more, click here.
Source: Sting.com