Baby Buggy, a national organization for families in need, raised $1.975 million at the organization's 15th Anniversary celebration featuring "An Evening with Jerry Seinfeld and Amy Schumer" at the Beacon Theatre in New York City last night.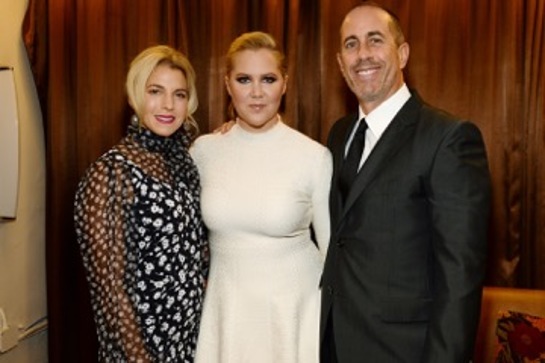 With rousing comedy sets by Schumer and Seinfeld, the event featured appearances by Baby Buggy Founder Jessica Seinfeld and Co-Hosts George Stephanopoulos and Ali Wentworth.
Stephanopoulos and Wentworth highlighted how Jessica Seinfeld's initial idea to get gently-used child items to mothers in need has evolved to be a national organization serving families through a network of antipoverty programs. Since its inception, Baby Buggy has donated more than 17 million items, including car seats, clothing, diapers and more, to hundreds of thousands of vulnerable families by tying donations to enrollment in life-changing family service programs to help lift families out of poverty.
"Growing up in poverty is one of the greatest threats to healthy child development," said Baby Buggy Founder and Board President Jessica Seinfeld. "Our vision is that all children have what they need to outgrow poverty. It's the power of our donated goods plus the services of our partners that create meaningful change for so many."
The evening sold out within hours when tickets went on sale to the public in mid-September. Proceeds from the event will help change the lives of families in cities across the country by directly funding Baby Buggy's efforts to curb generational poverty. Baby Buggy provides individually-tailored donations of critical child gear items to parents enrolled in anti-poverty programs in cities nationwide.
Presenting Sponsor Bank of America Senior Vice President Connie Verducci said, "What a special evening for Jessica and Baby Buggy. With so many fans of Amy and Jerry coming out to support the cause, it really helps generate awareness of their mission." Verducci continued, "Bank of America is proud to be a long-time supporter of this truly incredible organization which provides life-changing services for so many families living in poverty. Our pledge to match the donations raised last night further demonstrates our commitment."
The evening's Co-Chairs were Jessica and Jerry Seinfeld, Lily and Doug Band, Jennifer Koen and Mark Horowitz, Julianne Moore, Gwyneth Paltrow, Sarah Jessica Parker, Ali Wentworth and George Stephanopoulos, Olivia Wilde and Jason Sudeikis, Connie Verducci and Naomi Watts.
Notable guests included Drew Barrymore and Will Kopelman, Steve and Ann Martin, Michael J. Fox and Tracy Pollan, Al Roker and Deborah Roberts, Michael Strahan, Victoria Justice, and Jeff Gordon and Ingrid Vandebosch, Rick Nash, Ron Darling, Karlie Kloss, Derick Brassard.
"An Evening with Jerry Seinfeld and Amy Schumer" received additional support from Acura, American Express, Bloomberg, Steven and Alexandra Cohen Foundation, Crackle, Delta Children, Glenview Capital Management, Joe Fresh, Johnson & Johnson, Newman's Own Foundation, Royal Velvet Home and Toys R Us.