Hundreds of Los Angeles notables came together this week to celebrate UNICEF's work for children at the sixth biennial UNICEF Ball at the Beverly Wilshire Four Seasons Hotel.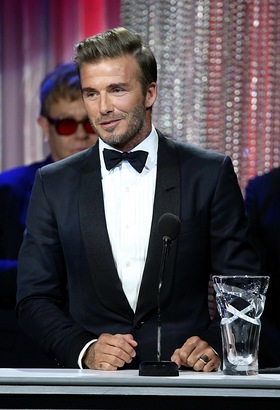 UNICEF Goodwill Ambassador David Beckham and University of Southern California President C. L. Max Nikias were honored for their extraordinary commitment to put children first. Under the leadership of Southern California Regional Board Chair, Ghada Irani, the black-tie gala raised over $2.5 million for UNICEF's lifesaving programs for children. The evening featured a live performance by multi-Grammy Award winner Mariah Carey and was emceed by UNICEF Ambassador Angie Harmon. The majority of the proceeds from the live auction will benefit 7: The David Beckham UNICEF Fund – an initiative launched by David Beckham as a personal commitment to help the children around the world who need it most.
Presented by Louis Vuitton, the UNICEF Ball marked the launch of LOUIS VUITTON for UNICEF, a global partnership between the humanitarian organization for children and the luxury fashion house to help support children affected by conflict, disease, natural disasters, and other situations that threaten their safety and well-being.
UNICEF Ambassadors Alyssa Milano and Selena Gomez, UNICEF Supporters Heidi Klum, Laura Marano and Jesse Metcalfe, Camilla Belle, Kim Chandler, Brooke Burke-Charvet, David Charvet, David Foster, Don Johnson, Miranda Kerr, Jennifer Connelly and Paul Bettany, Nicole Kidman, Michelle Rodriguez, Patrick Demarchelier, Doona Bae, Xavier Dolan, Adèle Exarchopoulos, Carina Lau, Tao Okamoto, Cara Santana and Léa Seydoux were in attendance.
Gala attendees shared their promise to help support the world's children with a pinky promise in a photo studio hosted by Louis Vuitton and shot by renowned photographer Patrick Demarchelier. The photos have been shared globally on social media, using #MAKEAPROMISE to encourage people to join Louis Vuitton in its support for UNICEF's work for children.
David Beckham was presented with the Danny Kaye Humanitarian Leadership Award for his tireless work to save and improve the lives of children around the world. In addition to serving as a UNICEF Goodwill Ambassador since 2005 and launching 7: The David Beckham UNICEF Fund, Beckham urged world leaders at the United Nations General Assembly in September 2015 to put the most disadvantaged children at the center of all decisions and investments in the new 15-year development agenda. He also supported UNICEF's fight against Ebola in Sierra Leone in 2014 and efforts to aid children affected by the devastating 2004 Indian Ocean tsunami. Beckham has traveled extensively with UNICEF to Cambodia, the Philippines, South Africa and Sierra Leone to help raise funds and awareness for UNICEF programs providing child protection, health and emergency relief for vulnerable children.
"We live in a world where children are still dying of preventable diseases, or being subjected to abuse and violence," said David Beckham, UNICEF Goodwill Ambassador. "I have four children of my own and I will not stop supporting UNICEF until I know that all children are safe, healthy and have a bright future ahead of them."
President of the University of Southern California C. L. Max Nikias was honored with the Spirit of Compassion Award for his work shaping the minds of a generation of students to be philanthropic, globally minded, and informed of the issues that are affecting the world's children. A lifelong champion of education, Nikias has expanded USC's youth outreach programs including its flagship Neighborhood Academic Initiative, a six-year college preparation program, broadened the university's international presence and the diversity of the student body, and implemented a number of initiatives that promote global citizenship. He encourages student giving and volunteering through a wide spectrum of university service programs that address issues like hunger, homelessness and youth literacy.
"I am humbled to receive this award from the U.S. Fund for UNICEF and to support an organization that works tirelessly to save and protect children around the world," said Nikias. "I believe education is the greatest equalizer, and our faculty, staff, and students all take part in volunteer outreach programs that make a tremendous difference in children's lives, here at home and around the world. I am extremely proud of our achievements in this area, and accept this award on behalf of the entire USC community."
"The U.S. Fund for UNICEF is pleased to recognize USC President Dr. C. L. Max Nikias, who has dedicated his life's work to helping students realize their potential, and long-time UNICEF Goodwill Ambassador and true champion for children, David Beckham, for their extraordinary dedication to saving and improving the lives of children," said Caryl M. Stern, President and CEO of the U.S. Fund for UNICEF. "Our honorees tonight have really taken to heart our mission to put children first, bringing us closer to the day when every child can thrive and fulfill their dreams."
At the event, a tribute video featuring Matt Damon was played to commemorate the life of the late producer and philanthropist Jerry Weintraub, a passionate advocate for children who was a Special Advisor to the U.S. Fund for UNICEF and a recipient of UNICEF's Danny Kaye Humanitarian Award in 2009.
Tamar and Bob Manoukian were the lead benefactors for the event. Wallis Annenberg, Rachelle and Tom Barrack, Robert Day, Ghada and Ray Irani, Tamar and Bob Manoukian, William McMorrow, Lori and Michael Milken, and Alia and Ronald Tut­­­or co-chaired the event.
Since its debut in 2005, the UNICEF Ball has raised more than $7 million to help UNICEF provide children in need with health care and immunizations, clean water and sanitation, nutrition, education, emergency relief and more. For more information about the 2016 UNICEF Ball, visit www.unicefball.org.