MusiCares has partnered with global watch and accessories brand Nixon for the spring release of the Rock LTD Collection, a limited edition capsule of one-of-a-kind timepieces designed with donated leather jackets, pants and guitar straps from some of the world's largest names in music and sport.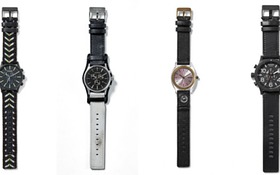 A portion of the proceeds from the sale of the Rock LTD Collection will benefit the MusiCares MAP Fund to provide members of the music community access to addiction recovery treatment. Offered in extremely limited quantities, the Rock LTD Collection is available globally mid-April 18, 2016.
This exclusive delivery of the Rock LTD Collection will be available at global retailers, including: Westime (Sunset and Rodeo Dr. locations), RonRobinson | Fred Segal Melrose, Feldmar, Placio De Oro, Nixon Chadstone (AUS), Nixon London Carnaby, Nixon London Seven Dials, Nixon Paris and Nixon NYC, Nixon LCX (Hong Kong).
This season, the Rock LTD Collection features leathers worn by 13 world-renowned talents, such as Guns N' Roses' lead guitarist Slash, James Hetfield and Kirk Hammett of Metallica, and Coldplay front man Chris Martin. The collection will also include exclusive watch designs from Nixon athlete and skateboarding pioneer, Tony Hawk, and Nick Rimando, goalkeeper for Major League Soccer's Real Salt Lake. The donated leather goods are provided direct from each artist and athlete's closet and are transformed into extremely rare and highly collectible timepieces. The resulting one-of-a-kind watch straps offer a worn, live-in feel.
Each watch is individually, hand-numbered to denote its rarity. Additionally, each watch features a custom, etched caseback with the name of the artist and is packaged with a certificate of authenticity from Nixon and MusiCares. Past Rock LTD Collections have used donated leathers from Ozzy Osbourne, Keith Richards, Pete Townshend, Eddie Van Halen, Steven Tyler, Ringo Starr, Anthony Kiedis and Flea, and Dave Navarro, among others.
Rock LTD Collection Includes:
• Slash — The 51-30 Chrono (Leather Pants)
• James Hetfield — The 51-30 Chrono (Guitar Strap)
• Kirk Hammett — The 51-30 Chrono (Guitar Strap)
• Tony Hawk — The Time Teller (Leather Jacket)
• Eminem — The 51-30 Chrono (Belts)
• Nick Rimando — The 51-30 Chrono (Goalie Gloves)
• Jared Leto — The Sentry Chrono (Belt)
• Chris Martin — The Sentry Chrono (Guitar Strap)
• Tim McGraw — The Sentry Chrono (Belt)
• Brandon Steinekert — The Sentry Chrono (Leather Jacket)
• Macklemore — The Time Teller (White Sleeveless Leather Top)
• Alisa Xayalith — The Time Teller (Leather Jacket)
• Jun K — The Time Teller (Leather Jacket; Available in Asia Only)