Pitbull will perform LIVE at AT&T Stadium during halftime of the Dallas Cowboys game on FOX against the Philadelphia Eagles on Thanksgiving Day, Nov. 27, kicking off The Salvation Army's annual Red Kettle Campaign.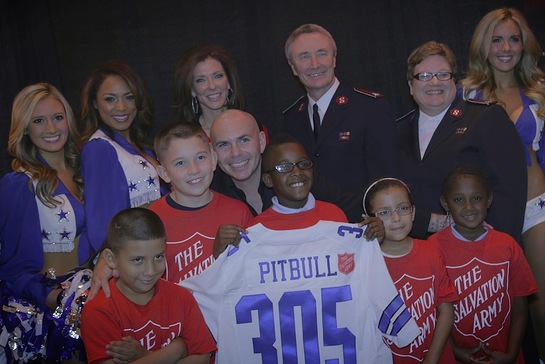 The halftime performance marks the 18th year the Dallas Cowboys have partnered with The Salvation Army to launch the campaign, which raises millions of dollars throughout the holiday season. Donations help provide meals and shelter for families, Christmas toys for millions of children, in addition to numerous other social services programs year-round such as substance abuse programs, shelter and counseling for victims of domestic violence, and military veteran assistance.
"In order to become an iconic brand, you have to deal with one," says Pitbull "It's a true honor to partner with the Dallas Cowboys on such a special day as Thanksgiving, it's even more special to kick off the Salvation Army Red Kettle campaign, daleee!"
"It is really exciting to have Pitbull kick off the Red Kettle Campaign this year. Not only is he a sensational performer with a global presence, but he also has a passion for the cause. Pitbull will surely make Red Kettle Kickoff 2014 a memorable one," said Charlotte Jones Anderson, executive vice president and chief brand officer for the Dallas Cowboys and national advisory chairperson for The Salvation Army. "The Salvation Army's services impact millions of families and children in need, and our goal each year is to help spread that message and educate Americans that the funds raised during the Red Kettle Campaign help The Salvation Army continue to do the most good."
The Red Kettle Campaign runs from Thanksgiving Day through Christmas Eve and is the largest and longest-running fundraiser of its kind. It raised $135.9 million last year alone, with more than $1.89 billion raised since the Dallas Cowboys Thanksgiving Day partnership began in 1997.
"The Salvation Army is known for its iconic Red Kettles, but the heart behind those kettles is our effort to help America's most vulnerable – children – and ensure that they have a warm, comfortable place to sleep, hot food to eat and toys to play with at Christmas," said Lt. Col. Ron Busroe, national community relations and development secretary for The Salvation Army. "Our hope with the help of the Dallas Cowboys and Pitbull is to spread the word about the breadth and depth of our organization and make sure everyone knows that if they are in need, we are here to help."
Pitbull is a globally successful musician, performer, business entrepreneur, fashion icon and actor whose career sales have exceeded 5 million albums and over 60 million singles worldwide. Through the release of seven studio albums, "Mr. Worldwide" has achieved No. 1 status in more than 15 countries around the world with his rapid-fire rhythms, billion-dollar beats, and globally infectious hooks that cross over to audiences around the world. Pitbull is currently finishing up his forthcoming November 24 album Globalization-set to launch just days before his performance-and on a national concert tour with Enrique Iglesias that culminates on Oct. 28.
Pitbull is the newest addition to a list of Red Kettle Kickoff celebrity halftime performers including Selena Gomez, Kenny Chesney, Enrique Iglesias, Keith Urban, Daughtry, The Jonas Brothers, Kelly Clarkson, Carrie Underwood, Sheryl Crow, Destiny's Child, Toby Keith, LeAnn Rimes, Creed, Jessica Simpson, Billy Gilman, Clint Black, Randy Travis and Reba McEntire.
In addition to giving online at salvationarmyusa.org or to the more than 25,000 traditional bell ringers, supporters can donate through the Army's text-to-give program. By texting the word "KETTLE" to 80888, donors can send $10 to the Red Kettle Campaign.
From its humble beginnings as a Salvation Army captain's startup program in 1891 in San Francisco, the Red Kettle Campaign has grown into one of the most recognizable and important charitable campaigns in the United States. As part of the campaign, more than 25,000 Salvation Army volunteers throughout the country ring bells and solicit donations to the Red Kettles.