Chelsea Handler, Barry Diller, Heidi Klum, Jon Hamm, Cheyenne Jackson, Dita Von Teese, Jane Lynch, Lea Michele, Victoria Justice, amfAR Global Fundraising Chairman Milutin Gatsby, and amfAR Chairman of the Board Kenneth Cole were among those who gathered at the seventh annual amfAR Inspiration Gala Los Angeles last week.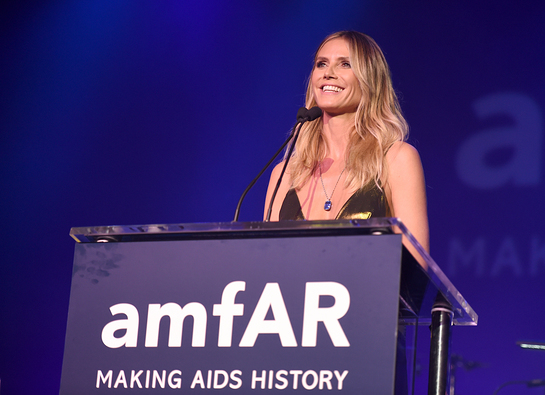 The event paid tribute to Jeffrey Katzenberg, Chairman of DreamWorks New Media, and Academy Award-winning actress and United Nations Messenger of Peace Charlize Theron in recognition of their exceptional contributions to the fight against AIDS. The event, presented by Harry Winston and M•A•C Viva Glam, raised over $2 million for amfAR's life-saving AIDS research programs.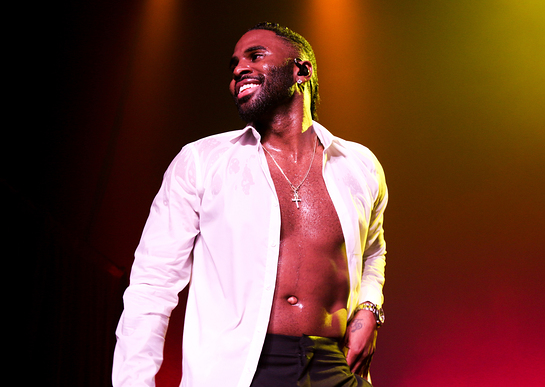 Sophia Amoruso, Fredrik Eklund, Jay Ellis, Estelle, Peter Fonda, David Foster, David Furnish, Brad Goreski, Kelsey Grammer, Courtney Love, Angela Lindvall, Maureen McCormick, Jesse Metcalfe, Shemar Moore, Mia Moretti, Samantha Ronson, Cara Santana, Milissa Sears, Teddy Sears, Nina Senicar, and others were also in attendance.
The evening began with a Disney-themed musical tribute to honoree Jeffrey Katzenberg. A 10-piece orchestra performed Aladdin's "Friend Like Me," and American Horror Story star Cheyenne Jackson and Glee's Jane Lynch then took the stage to perform Aladdin's "A Whole New World." Longtime amfAR supporter Heidi Klum then welcomed guests and introduced amfAR Chairman of the Board Kenneth Cole. Mr. Cole spoke passionately about amfAR's Countdown to a Cure for AIDS initiative, which is aimed at developing the scientific basis of a cure by 2020.
Barry Diller presented the amfAR Award of Inspiration to his friend Jeffrey Katzenberg, stating "for those who need to be inspired by example, here he is." Katzenberg was recognized for his support of a wide range of AIDS-related and other charitable causes, including amfAR and AIDS Project Los Angeles, of which he serves as a Trustee. In his acceptance remarks Katzenberg cited the progress that has been made against HIV/AIDS thanks to organizations like amfAR and stressed that "AIDS has never been just a health issue, it is also a human rights issue."
Chelsea Handler presented the amfAR Award of Inspiration to the "uncompromising" Charlize Theron, "because in the fight against AIDS, we need uncompromising." Theron founded the Charlize Theron Africa Outreach Project in 2007 to support African youth in the fight against HIV/AIDS by providing them with important tools and skills to live healthy and productive lives, and also serves as a United Nations Messenger of Peace. Accepting the award, she discussed her personal connection to HIV/AIDS growing up in South Africa, and stated that "to end this epidemic, we need big bold investments in science and medicine [and] big, bold investments in outreach."
The event also featured a colorful and competitive live auction, conducted by Alexander Gilkes, who encouraged guests to give generously to amfAR's efforts to find a cure for HIV.
• Model Angela Lindvall helped introduce exquisite Harry Winston earrings, featuring 124 round brilliant diamonds. Titled "Belle," in tribute to the 1920s jewelry estate of Arabella Huntington, these earrings weigh a total of approximately 1.09 carats and sold for $40,000.
• Haggadah, a work by renowned German artist Gerhard Richter, sold for $75,000.
• A seven-night stay for six adults at one of the most luxurious and exclusive residences in the Maldives, the beachfront Sunrise Retreat on Soneva Fushi, sold for $70,000.
• Two tickets to the Givenchy runway show in Paris during the 2016-2017 season, as well as a ready-to-wear Givenchy outfit with private shopping experience, a Givenchy bag, and round-trip airfare for two on Delta One sold for $50,000
• Donuts (Chocolate), a work by the world's most famous and mysterious street artist, Banksy, sold for $50,000 to Event Chair Aileen Getty, who also pledged $100,000 to amfAR later in the auction.
• A playful and mesmerizing hand-painted mural by the Haas Brothers, titled Animal Party and introduced by one of the artists, sold for $95,000.
• An opportunity to explore the legendary Rainbow Mountain hidden deep within the Andes of Peru with Johan Ernst Nilson, one of the world's leading explorers, sold twice for a total of $120,000.
The evening ended with an explosive performance by pop and R&B sensation Jason Derulo, who performed a set of his biggest hits including "Whatcha Say," "Wiggle," "Talk Dirty," and "Want To Want Me."
Aileen Getty and amfAR Chairman of the Board Kenneth Cole served as Event Chairs. Will Arnett, Antonio Banderas, Matt Bomer and Simon Halls, Steve Buscemi, Nicolas Cage, John Demsey, America Ferrera, amfAR Global Fundraising Chairman Milutin Gatsby, Jim Gianopulos, Charles Gibb, Jon Hamm, Nayla Hayek, Kevine Huvane, Stephen Huvane, Cheyenne Jackson, Milla Jovovich, Anna Kendrick, Heidi Klum, Donna Langley, Andrew Lipman, Willie Maldonado, Ron Meyer, Dame Helen Mirren, Eddie Murphy, Gary Newman, Denis O'Hare, Sean Patterson, Alan Poul and Ari Karpel, Tricia Quick, Peter Rice, Vincent Roberti, Rich Ross and Adam Sanderson, Zoe Saldana, Jeff Shell, Martin Short, Stacey Snider, Jeffrey Tambor, Dana Walden, Stephen Warren, and Catherine Zeta-Jones served as Event Co-Chairs.
The event was presented by Harry Winston and M•A•C Viva Glam. Cadillac and Moët Hennessy were the event's Signature Sponsors. MILK was the Associate Sponsor. Delta Air Lines is the Official Airline of amfAR.
The Inspiration series was launched in 2010 by amfAR and Josh Wood Productions to celebrate men's style and fashion while raising funds for the Foundation's life-saving AIDS research programs. Inspiration galas have taken place in New York, Paris, Los Angeles, Toronto, Miami, São Paulo, and Rio de Janeiro, raising more than $26 million to date.