The Lincoln Center's annual American Songbook Gala honored Creative Artists Agency Managing Director Bryan Lourd for his philanthropic work on Monday.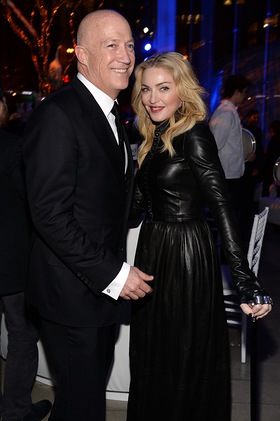 The star-studded gala included guests such as Madonna, Gwyneth Paltrow, Diane von Furstenberg, Jimmy Fallon, Whoopi Goldberg, Liam Neeson, Reese Witherspoon, Barbara Walters, Julianna Margolies, Chris Botti, Anna Wintour, Darren Aronofsky, Harvey Weinstein and many more.
Performers included Daniel Craig, Anne Hathaway, Sarah Jessica Parker, Marisa Tomei, Kristin Chenoweth, Alan Cumming, Kelly Ripa and more.
The American Songbook series celebrates the best in American singing and
songwriting. The series defines American Songbook as music from Stephen Foster to Sufian Stephens, in genres including pop, Broadway, jazz, rock, folk, R&B, Americana, and country. Now in its 16th season, American Songbook is presented in a series of concerts both in The Allen Room and in the Stanley Kaplan Penthouse.
This Gala honored a friend and supporter of Lincoln Center, Bryan Lourd. A member of Lincoln Center's Board of Trustees since 2011, Lourd brings a passion and deep sense of responsibility not only to his work for Lincoln Center but also to the work for CAA's own philanthropic foundation. Highly respected throughout the arts and entertainment worlds, Lourd and his colleagues are essential partners to all who work in the arts and entertainment field.
The performance took place on the Adriene Arsht Stage at Alice Tully Hall. The set, by award-winning designer David Rockwell, replicates Bryan Lourd's living room at his penthouse in New York. The audience was invited to join Bryan's friends for an evening of song and surprises.