By Tim Saunders on
Look To The Stars is proud to be involved in one of Hollywood's premier charity Oscar parties this weekend. Leeza Gibbons' A Night To Make A Difference will take place on Sunday, February 22, at the iconic Mr Chow in Beverly Hills, with a host of celebrities expected to attend. And Look To The Stars is streaming the event LIVE.
This unique event will bring together stars from film, TV, music, sports and fashion to celebrate the worlds of celebrity and charity. Special Ambassadors of Change who have used their celebrity to make a tangible difference in the world will be on hand to empower the audience to make a difference in their own lives.
Hosted by Leeza Gibbons, Olivia Newton-John and David Foster, the Night To Make A Difference will attract stars such as Paris Hilton, Jessica Biel, Forest Whitaker, Slash, Alan Thicke, Ashley Tisdale, Brooke Burns, Cheryl Burke, Cheryl Ladd, Chevy Chase, Danny Boyle, Darryl McDaniels, Dee Wallace, Hilary Duff, Holly Robinson-Peete, Jaclyn Smith, Jane Seymour, Joey Fatone, Jordin Sparks, Ken Paves, Mario Lopez, Mel B., Melissa Gilbert, Rick Schroder, Suzanne Somers, Taraji P. Henson, Teri Hatcher, Tony Hawk and many more.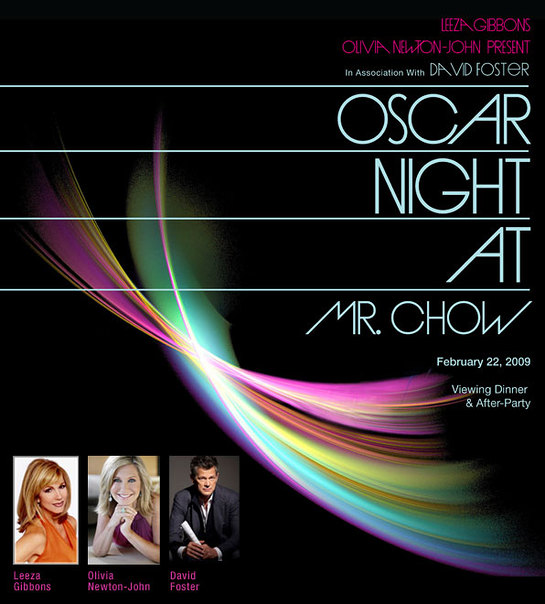 "The Night To Make a Difference party is to benefit the Leeza Gibbons Memory Foundation and my own Olivia Newton-John Cancer and Wellness Center," Olivia Newton-John told Look To The Stars. "But now it has morphed into a bigger night than just our two charities – it's about everybody's philanthropy and giving back. It's a new era in America with the new Obama presidency, and it's all about giving back, so we decided to make the night an evening about celebrity giving – like the theme of Look To The Stars."
Other charities to be involved with the event are Jessica Biel's Make The Difference Network, the Felix Organization, the Children's Hospice & Palliative Care Coalition, Cancer Schmancer Movement, Blessings in a Backpack, the Red Cross, TreePeople, the Tony Hawk Foundation, the David Foster Foundation, Smiles For Life, The HollyRod Foundation and many more.
"This event is truly different from the others and one of the aspects I am most excited about is the ability for viewers at home to be a part of the experience via the live webcast," said Leeza Gibbons. "With Arquiva and Highwinds handling the technical wizardry, we are able to focus on our message of advocacy and philanthropy. Our hope is to inspire people at home and around the world to take action and knowing that we are able to reach a broad audience on the web means we truly have a chance to help create the change presented by our on-camera Hollywood celebrities. I think it's what happens when Hollywood stars converge with technical stars like Arquiva and Highwinds. Our combination of being behind the scenes of movie's most glamorous night along wtih it's most passionate and purposeful stars takes the gold for best new web idea!"
The event kicks off at 4pm in Beverly Hills with Red Carpet arrivals. For more information and tickets, visit the official Night To Make A Difference website. And be sure to visit Look To The Stars' special live stream of the event on Oscars night.