The Audio Publishers Association (APA) has announced three Audie finalists for the prestigious Audiobook of the Year Award and five finalists for the Distinguished Achievement in Production Award – including Nelson Mandela's Favorite African Folktales, a charity release to raise money for Artists for a New South Africa.
The selection of folktales from across the African continent is performed by a diverse group of acclaimed actors who donated their time and talents to the effort: Gillian Anderson, Benjamin Bratt, LeVar Burton, Ricardo Chavira, Don Cheadle, Matt Damon, Whoopi Goldberg, Sean Hayes, Hugh Jackman, Samuel L. Jackson, LaTanya Richardson Jackson, Scarlett Johansson, Debra Messing, Helen Mirren, Parminder Nagra, Sophie Okonedo, CCH Pounder, Alan Rickman, Jurnee Smollett, Charlize Theron, Blair Underwood, Forest Whitaker and Alfre Woodard. Directed by Alfre Woodard, the audiobook features a special message to the world's children from Archbishop Desmond Tutu and original music by South African legends Johnny Clegg and Vusi Mahlasela.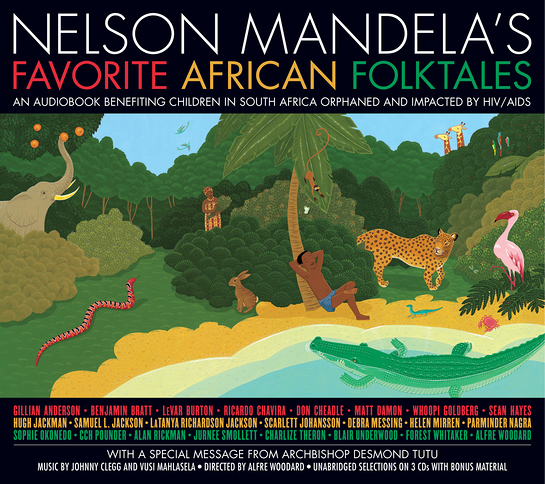 All of the publisher's profits benefit the Nelson Mandela Children's Fund and ANSA. Both organizations are working to address the impact of the AIDS pandemic on children in South Africa, which has more people living with HIV/AIDS and more children orphaned by the disease than any other country in the world.
The winners will be announced at the Audies Gala awards ceremony on Tuesday, May 25, 2010, at The Museum of the City of New York in New York City.
The three titles that are in the running for Audiobook of the Year are: Nelson Mandela's Favorite African Folktales; The Time of My Life, written and read by Patrick Swayze; and The Word of Promise Audio Bible, performed by a full cast of over 600 actors, including narration by Michael York. All three titles are distinguished by excellence in production as well as by their ability to create new interest in the audiobook format through creative and innovative marketing.
The five titles that have been selected to compete for the Distinguished Achievement in Production award are:Graceling by Kristen Cashore, narrated by David Baker and a full cast; The Help, by Kathryn Stockett, narrated by Cassandra Campbell, Jenna Lamia, Octavia Spencer, and Bahni Turpin; The Maltese Falcon, by Dashiell Hammett, dramatized for audio by Yuri Rasovsky, narrated by a full cast including Edward Herrmann and Sandra Oh; Nelson Mandela's Favorite African Folktales, narrated by a full cast including Samuel L. Jackson, Helen Mirren, Don Cheadle and Alan Rickman; and The Screwtape Letters, by C.S. Lewis, performed by Andy Serkis and a full cast. This award recognizes a production that represents the best the format has to offer in listening excellence.
"Each of these finalists should be celebrated for bringing such wonderful stories to life," said Ellen Myrick, chair of the Audies judges. "This eclectic group of titles represents a broad range of audiobook experiences and includes some of the most entertaining productions and performances the judges have seen in years."
Find out more about Nelson Mandela's Favorite African Folktales at the official website.