By Tim Saunders on
LookToTheStars.org is happy to announced that Nelson Mandela's Favorite African Folktales, an audiobook that raises funds for Artists for a New South Africa, has won two Audie Awards – including the audiobook industry's top honor, Audiobook Of The Year.
The selection of folktales from across the African continent is performed by a diverse group of acclaimed actors who donated their time and talents to the effort: Gillian Anderson, Benjamin Bratt, LeVar Burton, Ricardo Chavira, Don Cheadle, Matt Damon, Whoopi Goldberg, Sean Hayes, Hugh Jackman, Samuel L. Jackson, LaTanya Richardson, Scarlett Johansson, Debra Messing, Helen Mirren, Parminder Nagra, Sophie Okonedo, CCH Pounder, Alan Rickman, Jurnee Smollett, Charlize Theron, Blair Underwood, Forest Whitaker and Alfre Woodard. Directed by Alfre Woodard, the audiobook features a special message to the world's children from Archbishop Desmond Tutu and original music by South African legends Johnny Clegg and Vusi Mahlasela.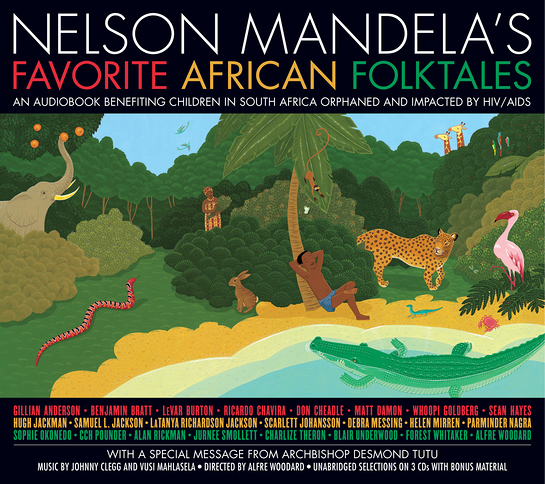 All of the publisher's profits benefit the Nelson Mandela Children's Fund and ANSA. Both organizations are working to address the impact of the AIDS pandemic on children in South Africa, which has more people living with HIV/AIDS and more children orphaned by the disease than any other country in the world.