Jerry and Jessica Seinfeld hosted GOOD+ Foundation's 2016 Fatherhood Lunch this week at The Palm Restaurant in Tribeca, celebrating the continued expansion and success of the program which launched six years ago.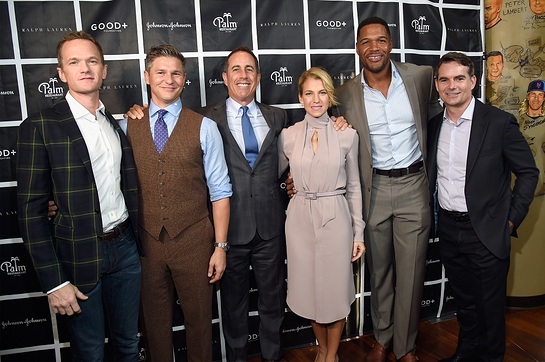 The lunch raised nearly $275,000 towards the Foundation's ongoing efforts to empower dads so they can fully embrace fatherhood and the responsibilities that accompany this role through support in positive parenting and discipline strategies, improving the relationship with the child's mother, and helping a father establish his role within the family. Since its inception, GOOD+ Foundation's Fatherhood Initiative has supported over 20,000 families.
During the lunch Jerry Seinfeld described how many fathers who seek help from a fatherhood program don't have the resources or materials to create the best environment for their families. With the services and products donated by the GOOD+ Foundation, fathers are able to provide for their families and get the long term support needed to help lift the family out of poverty.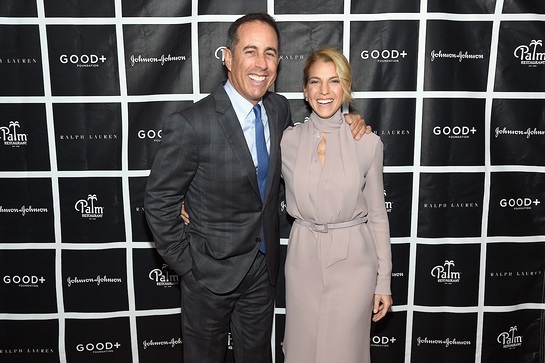 "We realized we needed to address the missing component – the fathers. Your father is half of who you are. They are an important piece of the puzzle. We knew if we could get fathers back into the lives of their kids, we could really stabilize this environment," said host Jerry Seinfeld. "Men are terrible at talking about being a husband and being a father. A gigantic hurdle is encouraging these men talk to each other, share their stories and realize they are not alone. I feel great that I'm able to help other men get into this experience of being a father."
One of the fathers, who has personally benefited from the program, addressed the room to share his life-changing experience and the successes he has achieved since he started working with Children's Institute Inc.'s Project Fatherhood in Los Angeles and receiving donations from GOOD+ Foundation.
The organization recently completed an independent program evaluation by LeSar Development Consultants revealing the impact of GOOD+ Foundation donations on both fathers and the programs served. The study revealed that the impact of GOOD+ Foundation donations on fathers and their children is undeniable. 82 percent of fathers reported that GOOD+ donations improved their relationship with their child's mother or relatives, and 82 percent reported the donations made them feel more like a dad to their child.
Also present was GOOD+ Foundation's new Fatherhood Program Manager Jomael Young who saw the GOOD+ Fatherhood Initiative develop from its inception, having served as the Program Leader for the Fathers First Initiative in the Rockaways – a GOOD+ Foundation partner – for more than 10 years.
The Fatherhood Initiative focuses on helping fathers be the dads they would like to be for their children by supporting them with comprehensive services such as counseling, job training, healthy relationship workshops, and actively engaging in their children's lives. They also provide families with special opportunities for parent-child bonding and memory-making experiences, in addition to amplifying the fatherhood movement by promoting meaningful fatherhood research and advocating for father engagement. GOOD+ Foundation has distributed nearly 500,000 items to over 20,000 families through 19 father engagement programs.
Guests at the luncheon included Alex Gorsky, David Lauren, GOOD+ Foundation Board Member Stacey Bendet Eisner, GOOD+ Fatherhood Leadership Council members Neil Patrick Harris, David Burtka, Michael Strahan, Jeff Gordon, Will Kopelman, Harry Kargman, Jason Weinberg, along with Sam Champion, Jim Cramer and Nicky Rothschild. Fatherhood Leadership Council members and lunch guests promoted the initiative by posting photos with #GoodPlusFatherhood and @GoodPlusFdn. Jerry and Jessica Seinfeld, Neil Patrick Harris and David Burtka were dressed in Ralph Lauren.
The event is presented by Johnson & Johnson and Ralph Lauren, with additional support by Crackle. The event was generously underwritten for the fourth time by Bruce Bozzi and Palm Restaurant.
The GOOD+ Foundation's Fatherhood Leadership Council is comprised of fathers who are deeply passionate about their own role as dads, and hope to raise funds and awareness for the initiative. Council members include Jerry Seinfeld (Chair), Jason Alexander, Anthony Anderson, Judd Apatow, Jason Bateman, Neil Blumenthal, Bruce Bozzi, Dan Bucantinsky, Rob Buccini, Ty Burrell, David Burtka, Christian Carino, Matt Cherwin, Camille Chidiac, Common, Shawn "Pecas" Costner, Victor Cruz, Matt Damon, Eric Ray Davidson, Robert Downey Jr., Darren Edwards, Eric Eisner, Nacho Figueras, David Fredston, Jeff Gordon, Alex Gorsky, Neil Patrick Harris, Kevin Hart, Alan F. Horn, Hugh Jackman, Mitch Jacobs, Woody Johnson, Harry Kargman, Pierre Kim, Boris Kodjoe, Will Kopelman, Jay Leno, Greg Lipmann, Blaine Lourd, Bryan Lourd, Bill Maher, Gabriel Miller, Francois Mobasser, Nas, David Neville, Rob Prinz, Michael Richards, Dan Roos, Bob Saget, Matt Schneider, George Shapiro, Dax Shepard, Lance Somerfeld, George Stephanopoulos, Steve Stoute, Michael Strahan, Michael Tiedemann, James Van Der Beek, Dwyane Wade, Marcus Wainwright, Charlie Walk, George Wallace, Jason Weinberg, Mel Woods and Jeffrey Wright.