On Saturday, the biggest names in entertainment, journalism, sports, and music joined educators, parents, and more for "EIF Presents: XQ Super School Live," a one-hour telecast and multi-platform event that invited the public to help rethink the future of American high schools.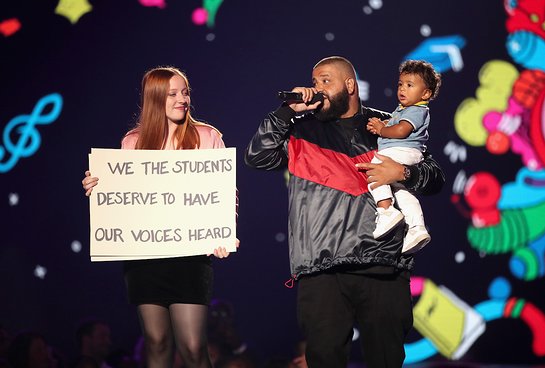 Among the stars who took part were J.J. Abrams, Mahershala Ali, Kelsea Ballerini, Maria Bello, Cate Blanchett, Chance the Rapper, Common, James Corden, Miranda Cosgrove, Cindy Crawford, Portia Doubleday, Michael Ealy, Kevin Frazier, Matt FX, Bill Hader, Tony Hale, Tom Hanks, Salma Hayek Pinault, Sean Hayes, Samuel L. Jackson, Allison Janney, JAX, DJ Khaled, Gayle King, Norman Lear, Marshawn Lynch, Rami Malek, Thomas Mann, Joel McHale, Alano Miller, Hasan Minhaj, Lin-Manuel Miranda, Maren Morris, David Muir, Randall Park, Chris Paul, Tanika Ray, Conrad Ricamora, Melissa Rivers, Adam Rodriguez, Al Roker, Christian Slater, Anna Deavere Smith, Ian Somerhalder, Karla Souza, Ringo Starr, Justin Timberlake, U2, Chris Wallace, Matt Walsh, Reggie Watts, D'Wayne Wiggins, and Jesse Williams, as well as East Los High stars Ashley Campuzano, Jorge Diaz, and Danielle Vega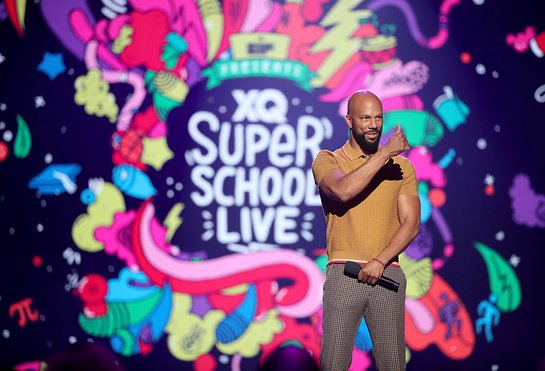 The event was produced by Done + Dusted, executive-produced by Viola Davis, Julius Tennon, and XQ Institute, and directed by Hamish Hamilton. The all-star telecast aired live from Barker Hangar at the Santa Monica Barker Hangar on all four major U.S. networks – ABC, CBS, FOX and NBC – on Friday, Sept. 8 at 8:00-9:00 PM ET live/PT tape-delayed. The telecast is also available on-demand on ABC, CBS, NBC, and FOX's streaming platforms, as well as Hulu and YouTube. Dance star and social media influencer Dytto, and actor Jorge Diaz hosted a pre-show that streamed live on Facebook, Twitter and YouTube. The telecast hashtag — #XQLive — trended worldwide on Twitter throughout the show.
Developed by XQ Institute and the Entertainment Industry Foundation (EIF), the telecast combined live musical, comedy, and documentary segments that brought to life the past, present and future of the American high school system.
"EIF Presents: XQ Super School Live was not an ending, but a beginning. It was the beginning of a renewed sense of optimism in America that every child, every student, from any zipcode, can get the education they deserve to lead a life of success as they define it. That our best days aren't behind us, but ahead of us. That for all the problems in the world and divides in our country, the American spirit of ingenuity is alive and well – and, most of all – capable of solving the biggest issues of our day," said XQ Co-Founder and CEO Russlynn Ali. "Tonight's telecast was a reminder for everyone of just how much work lies ahead of us, but also how worthwhile, rewarding, and wonderful that work will be when we do it together."
"We've been proud to partner with XQ Institute on this movement to rethink the current American high school system," said the Entertainment Industry Foundation's Lisa Paulsen. "EIF Presents: XQ Super School Live was an incredible opportunity to bring together some of the biggest names in our industry to help inspire the public to join us in working together to prepare every student for success."
Throughout the telecast, there was a roster of musical performances which culminated in a star-studded, moving finale performance of The Beatles' "Come Together" led by Jennifer Hudson with Jon Boogz, Sheryl Crow, MC Hammer, Sheila E., JAX, Ringo Starr, Reggie Watts, Max Weinberg and Max Weinberg's Jukebox, D'Wayne Wiggins, Silk Road Ensemble with Yo-Yo Ma, and U2.
Kelly Clarkson also performed a new song, "Move You," from her forthcoming album, "Meaning of Life." Kelsea Ballerini and Maren Morris introduced country star Hunter Hayes, who added to the roster of performers which also included Jordan Fisher and Andra Day.
Highlights include:
• Lin-Manuel Miranda visited his old high school and his high school theatre teacher, Gina McCort. They reminisced about his days in theatre class and took a trip down memory lane showing home videos of him performing in his very first onstage musicals.
• Justin Timberlake introduced America to an XQ Super School — Furr High School in Houston— with a short documentary, passionately explaining, "The kids you just met, along with more than 200,000 other students in the Houston School District, are picking themselves up and dusting themselves off after Hurricane Harvey. So to the people of Texas rebuilding, and the people in Florida bracing for Hurricane Irma, we love you and we're with you."
• With his son, Asahd, in his arms, DJ Khaled inspired action stating, "We can't just talk at our youth. We've got to talk TO them. Get them involved. That's why I bring my son Asahd with me to the studio, to meetings, to nights like tonight. He is soaking in all these experiences like an adorable sponge. The youth are the seeds of this country, and they must be watered with knowledge."
• Jesse Williams remarked, "One of the best jobs I ever had in my life was being a teacher. Watching a kid connect with passion is magic. Watching a kid overcome a challenge that would paralyze most adults – humbling, inspiring."
• Tom Hanks and Viola Davis ended the night with an impassioned speech and call to action. Hanks stated, "In America, we know that one small step can become a walk on the moon. We know that one simple act of sitting on a bus can inspire an entire movement. We know that two hundred seventy-two words on a hill in Gettysburg can help heal a nation. We take problems and raise our hands to solve them. That's what we do. That's who we are. So tonight, let's take that one small step to reshape our education system in this country. Because when we're good, we're great." Davis closed by sharing a personal story, "The fact that I am standing here tonight is a testament to the power of education. Education saved my life. Education matters. And now is the time for all of us to take action — no matter how big or small that action might be."