The stars were out for amfAR's New York Gala this week.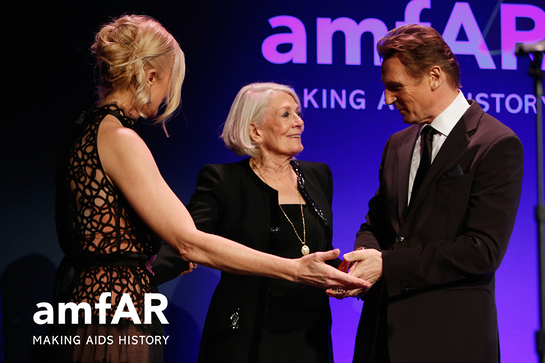 Vanessa Redgrave, Joely Richardson, Peter Lindbergh, Liam Neeson, Robin Wright, Grace Jones, Nile Rodgers, Jane Krakowski, Harry Belafonte, Chelsea Clinton, Andy Cohen, Kelly Rowland, Ethan Hawke, Karolina Kurkova, Karlie Kloss, Coco Rocha, Alan Cumming, Padma Lakshmi, Gretchen Mol, Grace Coddington, Donna Karan, Chanel Iman, A$AP Rocky, Lily Aldridge, Elettra Wiedemann, Veronica and Nicola Bulgari, and John Demsey were among those who joined amfAR Chairman Kenneth Cole and amfAR Founding Chairman Dr. Mathilde Krim at Cipriani Wall Street last night to support amfAR, The Foundation for AIDS Research at its annual New York Gala.
$1.7 million was raised at the event, as amfAR launched its Countdown to a Cure initiative, aiming to find a widely applicable cure for AIDS by 2020.
The Foundation honored revered actresses Vanessa Redgrave and Joely Richardson, mother and sister of the late, beloved amfAR Trustee Natasha Richardson, for carrying on Natasha's legacy in the fight against AIDS with their steadfast support of amfAR. Liam Neeson made a surprise appearance at the gala to present Redgrave and Richardson with amfAR's Awards of Courage. In emotional acceptance speeches, Redgrave and Richardson spoke about being inspired by Natasha's passion for the cause. Richardson said that she was moved by the generosity of the people in the room that night, from Aileen Getty who pledged $1 million to kick off Countdown to a Cure, to those who gave $50, and recalled the saying "The only thing we take with us, is everything we've given away."
Legendary fashion photographer Peter Lindbergh was also honored at the gala for his exceptional contributions to the global struggle against HIV/AIDS. Robin Wright presented him with his award, praising his extraordinary generosity towards amfAR, which was on display that night with two lots that he donated to the event's live auction. In his acceptance speech, Lindbergh acknowledged his fellow honoree Vanessa Redgrave, saying "I've learned from your life how important it is to stand up for what you believe in."
amfAR Trustee Harry Belafonte, a legend of the civil rights movement and an impassioned humanitarian, delivered a powerful call to action to the crowd to launch amfAR's Countdown to a Cure. "It is our intention to put amfAR out of business," he said. "We'd like nothing better than to close our doors, knowing that our job is done. But it won't be the work of my generation. The task of achieving a cure for AIDS requires the energy and passion of the next generation." Belafonte then called Chelsea Clinton to the stage, who said that "a cure for AIDS is no longer a dream. It's a visible, achievable, and as always, necessary goal." She urged the crowd to join her "in being part of the movement that brings the AIDS epidemic to an end." Guests participated in launching the initiative by texting to pledge throughout the night, and generous contributions flowed in, with pledges visible on screens in the room. A total of $154,000 was pledged through texts to start the campaign.
The black-tie benefit kicked off New York Fashion Week with three exciting performances. Tony Award-winning actress and singer Jane Krakowski opened the night with a cabaret performance, singing a new rendition of her hilarious "Tweet" song. Nile Rodgers, who recently won multiple Grammy awards, performed classic disco songs with Chic such as "Le Freak," getting the entire crowd on their feet dancing. The incomparable Grace Jones closed out the night with a spontaneous, over-the-top performance that had her hula-hooping on top of a table in the middle of the room while performing "Slave to the Rhythm."
Alexander Gilkes conducted the event's live auction, which featured a number of exclusive luxury items. Karlie Kloss and Derek Blasberg modeled his and hers Bulgari watches, which sold for $30,000. Honoree Peter Lindbergh donated the chance to sit for a private portrait commission with him, a true once-in-a-lifetime opportunity. Karolina Kurkova helped to auction off the lot, speaking about her unforgettable experiences working with Lindbergh. The package sold to two bidders for a total of $150,000. Lindbergh also donated one of his iconic prints to the auction, raising an additional $50,000 for amfAR.
Chairs of the event included Woody Allen and Soon-Yi Previn, Harry Belafonte, Veronica Bulgari, Kim Cattrall, R. Martin Chavez, Chelsea Clinton, Andy Cohen, Kenneth Cole, Alan Cumming, John Demsey, Joan Didion, Madame Hind El Achchabi, Karen Elson, Linda Evangelista, Anne Fulenwider, Nina Garcia, Milutin Gatsby, Aileen Getty, Tim Hanlon, Donna Karan, Brian C. Kelly, Mathilde Krim, Ph.D., David and Lauren Bush, Cindi Leive, Laura Linney, Julianna Margulies, Liam Neeson, Vincent Roberti, Carine Roitfeld, Hilary Swank, Diana Taylor, Stefano Tonchi, Stanley Tucci, and Harvey Weinstein.
The amfAR New York Gala is one of New York City's most successful and high-profile AIDS benefits. Previous honorees include President Bill Clinton, Dame Elizabeth Taylor, Roberto Cavalli, Kenneth Cole, Diane von Furstenberg, Yves Carcelle, Sir Elton John and David Furnish, Clive Davis, Peter Dolan/Bristol-Myers Squibb, Richard Gere, Whoopi Goldberg, Tom Hanks, Janet Jackson, Quincy Jones, Donna Karan, Heidi Klum, Patti LaBelle, Lorne Michaels, Liza Minnelli, Rosie O'Donnell, Howard and Cindy Rachofsky, Sumner Redstone/Viacom, Natasha Richardson, Bill Roedy/MTV Networks, Carine Roitfeld, Caroline Scheufele, Julian Schnabel, Bobby Shriver, Sharon Stone, Barbara Walters, Robin Williams, and Anna Wintour.
Bulgari and Wells Fargo generously served as the event's presenting sponsors. Wells Fargo has long been a strong and loyal supporter of amfAR and many other AIDS-related charities. Bulgari began its relationship with amfAR as one of the Foundation's earliest corporate sponsors, pledging its support in honor of amfAR co-founder Dame Elizabeth Taylor for her passionate and tireless work in the fight against AIDS. The event's signature sponsors include M•A•C Viva Glam, Mercedes-Benz, and Mandarin Oriental, New York. Gloria Ferrer is the event's wine sponsor. Delta Air Lines is the official airline of amfAR. The amfAR New York Gala is produced by Andrew Boose/AAB Productions.