Two years after an historic fundraising telecast and the start of a groundbreaking grassroots movement, Stand Up To Cancer (SU2C) will return to primetime television on September 10, 2010, at 8PM EST & PST / 7PM CT, with a star-studded appeal to build continuing public support and donations for cutting-edge cancer research that translates at a rapid pace from the laboratory to treatments and technologies that benefit patients.
Katie Couric, Diane Sawyer and Brian Williams announced the upcoming show during individual live appearances on CBS's "The Early Show," ABC's "Good Morning America" and NBC's "TODAY" show, respectively. The three network evening news anchors — who will host the September 10th telecast, executive produced by Laura Ziskin — participated in an interview together last week, discussing the upcoming fundraising event as well as the encouraging progress of "Dream Teams" of researchers SU2C has funded to date. Portions of that interview, the first joint appearance by this group of anchors, also aired on the morning shows.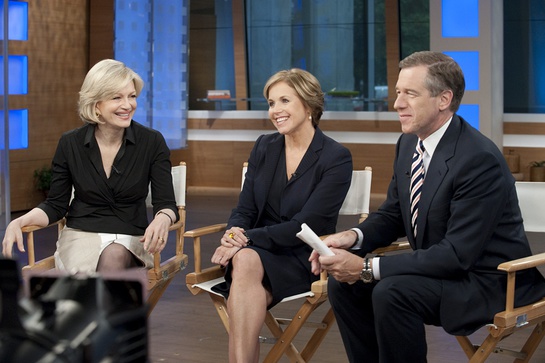 ABC, CBS and NBC are donating one hour of simultaneous commercial-free primetime for the nationally televised September 10th fundraising special, to be telecast from Los Angeles.
Similar to the landmark 2008 broadcast, this year's telecast will feature live performances of legendary recording artists and stars from film, television and sports who will present content providing viewers with insights into cancer. While the broadcast will honor the memory of those taken by the disease, it will focus on surviving cancer – on living a full life after being diagnosed with it. In the United States alone this year, 1.4 million people will be diagnosed with cancer.
HBO, Discovery Health, E!, MLB Network and The Style Network will also carry the show this year, and other networks and cable channels are also expected to join the effort. The program will include calls to donate through designated phone lines, as well as to the standup2cancer.org web site. One hundred percent of all public donations will go directly to cancer research.
The primary goal of SU2C is to raise funds for groundbreaking translational research to accelerate the delivery of new therapies to patients, getting them from the "bench to the bedside" as quickly as possible. SU2C brings together scientists from different disciplines across various institutions to work collaboratively — rather than competitively — at a critical time in the field of cancer research.
"Every day, cancer kills 1,500 Americans – one person every minute," said executive producer Laura Ziskin. "This year, more than 560,000 Americans and eight million people worldwide will succumb to the disease. One in three women and one in two men will be diagnosed in their lifetimes. This is simply unacceptable. Our goal with this telecast is to not only continue to raise funds to accelerate promising research, but also show viewers how their money and individual action will make — and have already made — a difference. The scientists and our nation are poised to break through the final barriers to truly make this the beginning of the end of cancer."
The original SU2C telecast on September 5, 2008 aired on ABC, CBS, NBC and E!, and was viewed in more than 170 countries. Throughout the program, many scientists and celebrities stood together in an unprecedented display of unity to combat cancer, including the late Patrick Swayze, Jennifer Aniston, Rob Lowe, Halle Berry, Ellen DeGeneres, Charles Barkley, Christina Applegate, Lance Armstrong, Tina Fey, Kirsten Dunst, Jack Black, America Ferrera, Neil Patrick Harris, Salma Hayek, Scarlett Johansson, Robin Roberts, Meryl Streep, Forest Whitaker and Abigail Breslin. Musical performers included Sheryl Crow, James Taylor, Melissa Etheridge, and a group that included Beyoncé Knowles, Miley Cyrus, Fergie, Carrie Underwood, Mary J. Blige and several other recording artists.
"Stand Up To Cancer is a populist movement," explained Katie Couric. "People of all ages are getting involved…Not only people who have cancer or who are dealing with it, but young people who want a cancer-free world in their future – we really think that's finally attainable."
"For people struggling with this disease, or those who will be diagnosed, scientific breakthroughs can be a matter of life or death — literally. We want everyone to know that they can make a difference in this fight," said
Sherry Lansing
, SU2C co-founder, who also established the
Sherry Lansing Foundation
and is Chair of the
Entertainment Industry Foundation
Board of Directors. "From the person who can give five dollars to the philanthropist who can give millions, we are all connected to the devastation that cancer causes in our families, and together, we can Stand Up to end it."
To read an exclusive interview with Sherry, click here.
For more information about the event, click here.