Stand Up To Cancer has announced that more than $81 million has been pledged so far in connection with its star-studded September 7 roadblock fundraising telecast to accelerate ground-breaking research and bring new treatments to patients as quickly as possible, including pediatric cancer patients through the creation of a new pediatric cancer research "Dream Team."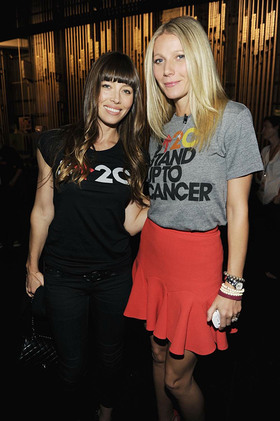 SU2C, an Entertainment Industry Foundation (EIF) initiative, is still gratefully accepting donations at www.su2c.org and at 1-888-90-STAND (78263). The telecast is available at www.hulu.com/stand-up-to-cancer.
The broadcast, dedicated to the nearly 13 million U.S. cancer survivors, was executive produced by Gwyneth Paltrow and Joel Gallen of Tenth Planet Productions in collaboration with SU2C's production team.
ABC, CBS, FOX and NBC donated one hour of simultaneous, commercial-free primetime for the nationally televised fundraising special, which was broadcast live from the Shrine Auditorium in Los Angeles. Cable channels Armed Forces Network, BIO, E!, ENCORE, HBO, HBO Latino, ION Television, LMN (Lifetime Movie Network), Logo, MLB Network, mun2, Palladia, SHOWTIME, Smithsonian Channel, STARZ, STYLE, TBS and VH1 also generously donated their air time.
In addition to Paltrow, Julia Roberts, Matt Damon, Tom Hanks, Michael Douglas, Halle Berry, Jessica Biel, Samuel L. Jackson, Tobey Maguire, Jeremy Renner, Seth Rogen, Emma Stone, Justin Timberlake, Sofia Vergara, Robert Pattinson and SU2C co-founder Katie Couric were among those featured on the broadcast. Taylor Swift, Coldplay, Alicia Keys and Tim McGraw delivered one-of-a-kind musical performances.
Simon Baker, Jordana Brewster, Diem Brown, Kobe Bryant, Ty Burrell, Dana Delany, Rocco DiSpirito, Gabrielle Douglas, Donald Faison, Missy Franklin, Jennie Garth, Max Greenfield, Chelsea Handler, Marg Helgenberger, Felicity Huffman, Stacy Keibler, Minka Kelly, Joe Manganiello, Jillian Michaels, Masi Oka, Ana Maria Polo, Ray Romano, Eric Stonestreet, Alison Sweeney, and Ethan Zohn are among the other actors and personalities who participated in the telecast.
Many of them staffed the SU2C phone bank, which, for the first time on any televised fundraising special, included a fully interactive "media bank" with celebrities talking to viewers via social media and doing live VOKLE video chats. Viewers were also able to donate via text-to-give and at standup2cancer.org. On Twitter, celebrities, musicians, athletes, patients and researchers from around the world responded to the question, "Who Do You Stand Up For?" The #istandupfor campaign was the leading Twitter trending topic during the broadcast and remained in the Top 5 for the rest of the evening.
"We are profoundly grateful to the entire entertainment community, particularly the stars who volunteered their time and talent, as well as the networks and cable channels that donated the air time, to make our show a tremendous success," said Lisa Paulsen, an SU2C co-founder and president and CEO of the Entertainment Industry Foundation (EIF), the 501©(3) that serves as the fiduciary behind Stand Up To Cancer. "Their support means so much to the millions of cancer patients and survivors who know they are not alone in this fight."
The program included a tribute to the legendary film producer Laura Ziskin, who was an SU2C co-founder and executive producer of the telecasts in 2008 and 2010. Ziskin lived with breast cancer for seven years before it took her life in June of 2011.
The show helps fund SU2C's groundbreaking approach to translational research, accelerating the delivery of new therapies to patients by getting them from the "bench to the bedside" as quickly as possible. SU2C brings together scientists from different disciplines across various institutions to work collaboratively, rather than competitively. One hundred percent of the public's donations go directly to cancer research.
Co-Executive Producer Gwyneth Paltrow, who lost her father Bruce to cancer ten years ago, said: "I am deeply moved by and proud of this broadcast. This is very personal for me, as it is for so many of us. Our program honored all those we've lost to the disease, emboldened those brave survivors among us to continue fighting, and highlighted SU2C's remarkable progress in cancer research. The results are tangible, and the potential for breakthroughs in the coming years is very exciting."
The bravery of two pediatric cancer patients was highlighted in the program. Avalanna Routh suffers from atypical teratoid rhabdoid tumor (ATRT), a rare, aggressive cancer that strikes infants and toddlers. The survival rate is typically measured in months, but Avalanna is six years old and fighting hard. Dr. Charles Roberts, Director of the Research Program in Solid Tumors at Dana-Farber Cancer Institute and one of Avalanna's doctors, is using his SU2C Innovative Research Grant funds to develop new treatment options for children with ATRT.
Justin Miller, who is starting the fourth grade this fall, was diagnosed with stage IV neuroblastoma at age three and has seen his cancer come back several times, but is now doing well. Justin inspired viewers with his humor and sense of hope: "I don't really think about me passing away….But if I ever do, I am taking my Legos with me," he said.
Recognizing the desperate need for more research focused on pediatric cancers, SU2C and the St. Baldrick's Foundation — a volunteer-driven charity committed to funding the most promising research to find cures for childhood cancers and give survivors long and healthy lives — will issue a "call for ideas" to the scientific community for a collaborative pediatric cancer Dream Team within the next two weeks.
During the broadcast, patients shared their powerful stories and demonstrated the real impact of SU2C-funded research. They included David Gobin, a former Baltimore police officer whose lung cancer spread to his liver. Multiple surgeries, chemotherapy, and radiation did little more than keep him alive. Then he took part in a clinical trial conducted by the SU2C Epigenetics Dream Team, led by Dr. Stephen Baylin, Deputy Director of the Sidney Kimmel Comprehensive Cancer Center at Johns Hopkins. The epigenetic therapy essentially silences the bad genes in order to jump start the good ones, and produces a "priming effect", enhancing the potential effectiveness of subsequent treatments. Gobin's tumors shrank dramatically.
Elizabeth O'Connor was diagnosed with stage IV pancreatic cancer at age 31, two weeks after giving birth to her second child. Only one in six patients with this diagnosis will survive twelve months. O'Connor was put on a new treatment regimen developed by the SU2C Pancreatic Dream Team led by Dr. Daniel D. Von Hoff, Physician in Chief and Director of Translational Research at the Translational Genomics Research Institute (TGEN) in Phoenix. While potentially curative surgery was not an option for Elizabeth at the time of her diagnosis, the new treatment shrunk her tumor enough that she was able to undergo a successful surgery earlier this year.
"We set out to convince the public that this is a moment of great promise in cancer research, and that each and every person can play a role in helping the scientists who are working so hard to end this terrible disease," said Sherry Lansing, SU2C co-founder and founder of the Sherry Lansing Foundation. "Only four years into our work, we are delighted with the results. Our SU2C Dream Teams of scientists have made important strides, all for the benefit of patients, and it was exciting to share some of their stories through the show."
"Stand Up To Cancer is a true force in advancing innovative cancer research, powered by the generosity and passion of millions of people who want to see this disease finally brought to its knees. Together, we are helping some of the world's best scientists make meaningful progress," added SU2C co-founder Katie Couric.
"To have so many big names from the entertainment community come out and rally around this cause was quite inspiring," said Gallen. "But the biggest stars of this show were the scientists who work so hard to defeat cancer and the brave patients who fight it every day."
"We were thrilled with how the public and celebrities embraced supporting Stand Up through social media," said SU2C Executive Leadership Council (ELC) Member Pam Williams. "Stars like Mindy Kaling, Selena Gomez, Ellen DeGeneres, Ken Jeong, Dane Cook, Lea Michele and many others who were not physically with us for the program helped generate a global conversation about the importance of funding cancer research."
"We cannot say enough to fully express our gratitude to our major donors who continue to commit significant resources to move this effort forward," said SU2C co-founder Rusty Robertson. "It would be impossible to do this work without their support and their appreciation for the importance of advancing science that is already saving lives."
"The beauty of the SU2C model is that it harnesses the power of individual and corporate supporters to allow researchers to pursue big ideas that can have a big impact," added SU2C co-founder Sue Schwartz.
"The researchers and cancer survivors we met during the broadcast are heroes in the fight against cancer," said SU2C co-founder Ellen Ziffren. "One man in two, and one woman in three in this country will eventually be diagnosed with some form of cancer. That's why it's so important that we join together to accelerate research that produces results."
Every day, cancer kills 1,600 Americans – one person every minute. This year, more than 550,000 Americans and almost 8 million people worldwide will die of some form of cancer. SU2C was founded on the belief that we are at a pivotal juncture with the potential for transformative progress in cancer research because of two trends: breakthroughs made in our understanding of the basic science of cancer, and technological advances that enable us to translate them into new treatments. Today's cancer researchers need additional funding to fulfill the promise of life-saving discoveries, and Stand Up To Cancer engages the public to support their work.
Source: PR Newswire